We're dedicated to providing the very best remote monitoring services. We invest in innovation, ongoing training and cutting-edge technology to make sure we provide 24/7 monitoring with unbeatable reliability, quality and transparency.
Why do you need remote monitoring services?
Remote monitoring is when a control centre (also known as a remote monitoring station) is connected to a site's security and/or building control systems. Skilled operators at the control centre then monitor activity at the site.
The moment unusual activity occurs, the control centre team will immediately investigate and act appropriately – never letting your site go vulnerable.
Using the latest technology and trained personnel we vigilantly monitor systems such as CCTV and intruder alarms through to lighting, temperature, access control and phone lines.
We offer a full range of remote monitoring services
Intruder and Fire
Access Control
Call Centre Services
Lone Worker Protection
Video Analytics
We also offer bespoke remote monitoring services, where we tailor the remote monitoring solution to the unique needs of your site. For example, if your building is at risk from a flood we can monitor water levels. Or, if your site has an internal monitoring station, we can provide emergency backup in case of a critical incident.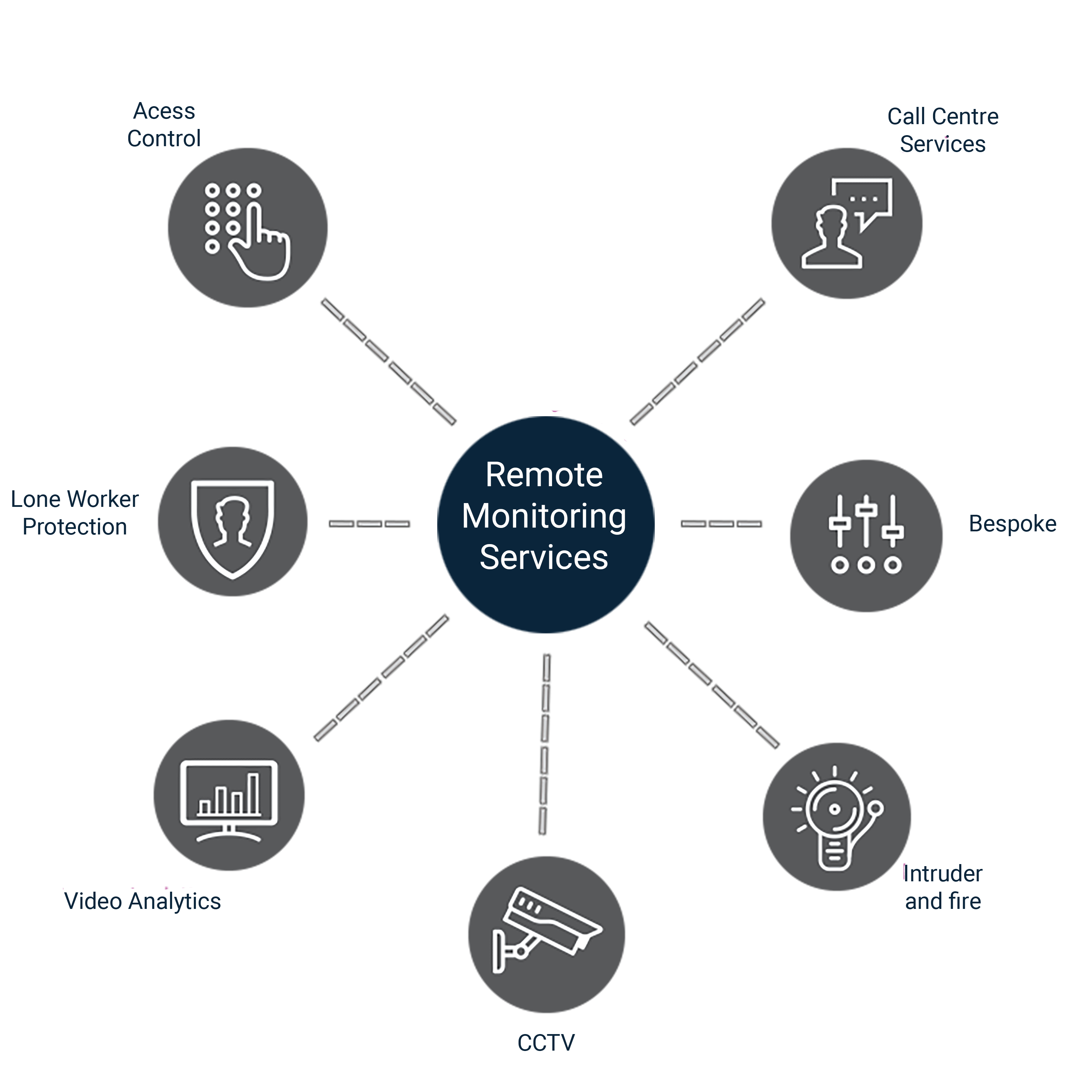 Our remote monitoring services comply to British Standards BS8418 and BS5979, in addition to meeting fulfilments required under ISO9000 (Quality Management and Assurance) set by the International Organisation for Standards (ISO).
If you require remote monitoring services for insurance purposes, these standards must be met to ensure you do not invalidate your policy and by choosing a trusted remote security camera monitoring service, there is the potential to reduce your insurance premiums.
Ready to learn how remote monitoring services can be the security solution your business needs?
What is Remote Monitoring?
Featuring 24/7 live monitoring, the security of knowing that your premises are secure whatever the time, whatever the day. Remote monitoring is the peace of mind that allows you to sleep easy at night because, with Farsight's technology, you are taking zero chances with your property.
As soon as an intruder is detected on the premises, footage broadcasting live images is directed to the screen of an operator, who will sound the alarm. First, the intruder will be given a live audio warning, in the majority of cases, instructing them to leave before further action is taken.
Audio warnings, usually, are enough to deter the intruder and scare them away, but in the event that they are feeling extra optimistic then you remain in good hands. The emergency services will be called, as well as the key holder for the site.
Remote monitoring doesn't just safeguard against criminal activity, however, as incidents such as an outbreak of fire and other natural reasons will also be picked up. In just the same way, Farsight's remote monitoring system ensures a rapid response time, quicker than the national average, in order to keep your premises safe.
All of this makes the investment of having your premises remotely monitored a necessity, potentially saving your business thousands, if not millions, of pounds in damages and increased insurance costs. Why take the chance when you can have your business watched over day and night?
How can remote monitoring services work for my Site?
Remote monitoring services improve the security and control of any facility or site. Click on the links below to find out more:
Choosing the right remote monitoring station
The Farsight remote monitoring station, also known as 'The Observatory', is a purpose-built, high-security compound where our team of 40-plus highly trained and motivated staff work shifts around the clock.